Magento – in recent years – has become one of the leading eCommerce platforms for your online business. According to a recent report, last year, eCommerce sales revenue combined to around $3 trillion. And around $1 trillion of the total was generated through Magento based eCommerce stores alone. As a result, eCommerce store owners looking for long-term success would choose Magento. And hosting, as follows, will be Cloudways.
Such a great hosting solution like Cloudways will bring the best benefits for every eCommerce business. Especially in the high-traffic scenarios, other hosting solutions can collapse. That may result in operational downtime and other technical concerns. But what makes it the best choice for Magento store hosting? This article will help you. Now, we would like to give you guys the definitive guide of Cloudways for Magento hosting.
Latest Update: We've just released the version 2.0 of Claue Multipurpose Magento 2 Theme, with with a bunch of performance improvements and exclusive features. Check this theme out now: Claue Magento Theme  2. 0 
Claue – Clean, Minimal Magento 2&1 Theme is an excellent template for a modern and clean eCommerce store with 40+ homepage layouts and tons of options for shop, blog, portfolio, store locator layouts and other useful pages. Claue version 2. 0  comes with a bunch of  exclusive features including:
Being based on Luma theme.
Meet all standards of Magento Theme
Significant performance improvement
Compatible with most third-party extensions.
Fully compatible with Magento 2.4.x
This second advanced version completely differentiates from its previous one. Thus, if you are using Claue version 1 and want to update to Claue version 2, you can only rebuild a new website no rather than updating from the old version. Now, let's get back the main topic.
What is "Cloudways"?
Cloudways definition
This is a managed cloud hosting platform. It provides customers with a solution to launch web applications on different cloud servers. Pricing depends on the provider you choose with DigitalOcean starting at $10 per month. Cloudways' servers are highly tuned for performance and reliability and you'll have support experts ready to help. Plus, they are scalable along with your business and enable you to cater to growing demands easily.
What can Cloudways benefit for your business?
Cloudways is not just a management solution for hosting websites. It is a platform built to facilitate Magento stores and eCommerce business in general. It saves store owners both time and money – two things on which store owners place great value. Moreover, the module offers platform-as-a-service (PaaS) cloud-based web hosting. That may set it apart from other Magento hosting providers.
Benefits of Cloudways
Cloudways prides itself on providing one of the best Magento hosting services. It can provide the end-users with an optimum Magento experience. On Cloudways, you can host your Magento store on top cloud infrastructure providers. So now, let's check out some of the salient features that this platform offers to the Magento store owners.
Deploy Magento application on top 5 cloud providers
Launch your server in 5 steps
Ironclad security
Cloudways ThunderStack
Automated backups
Team collaboration
Real-time server monitoring
Pay-as-you-go pricing plan
The steps to launching your Magento 2 store
This module has a simple and very streamlined signup process that gets your server and Magento store up and running within minutes. So now, here are the simple, yet beneficial steps to launch your Magento 2 store in this hosting solution.
Step 1: Create an account
Creating an account on Cloudways
If it's your first time with Cloudways, signup by providing some basic information. But if you've already had an account, then you should choose the "login" button. The account signing will be absolutely free, you just have to fill out a small form. Then, your first step will be all set!
Step 2: Select the taste of your Magento flavor
Next, you will have to select your preferred Magento version. This is crucial to your business, as the platform will decide the visual and scalability of your store. To be up-to-date, we would like to choose the Magento 2 flavor, for a seamless, yet satisfying experience.
Step 3: Provide your application and servers' details
You must have filled out the definite details of your applications and your servers. To be more specific, you should choose "Name Your Managed App" to fill in the application's details, and "Name Your Managed Server" to fill in the servers' details.
Step 4: Choose a chosen cloud provider, size and location.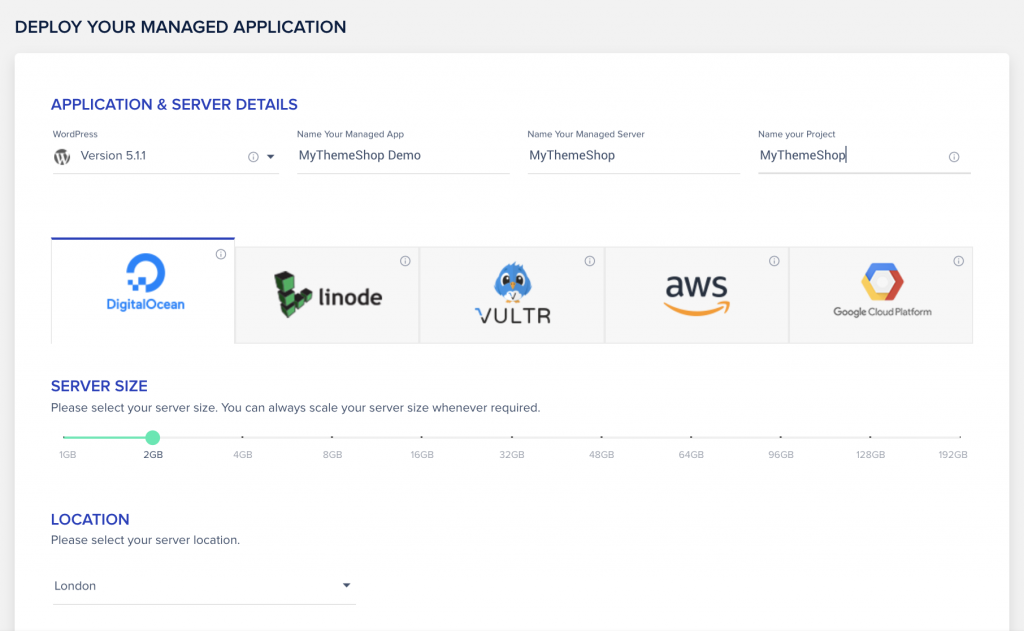 Choosing server size, location and provider
The next step to run a Magento store in this hosting solution is choosing a cloud (Iaas) provider. There are five offered cloud infrastructure providers. You should choose your server size as well. At this point, remember that the more disk space and RAM, the better. If you are confused about selecting server specifications, Cloudways Support Team can help you out. After that, you should choose a server location that's nearest to your target audience.
Step 5. Launch your business
Due to the easy pay-as-you-go model, you only have to pay for the resources you use. Once you are done with the changes, hit the LAUNCH NOW button. And your Magento store is set! In just a few minutes, you have launched your Magento application on your chosen provider.
Some highlighted features of Cloudways
1. Free migration
Moving to this hosting provider is quite easy. You can migrate your Magento website in just a few clicks. The rest will be on the support team. Note: This module will migrate one of your Magento websites for free of charge. That means no cost of migration, yet the quality will be on top.
2. CloudwaysCDN
If your users land at your website with a diversified background from different countries and you're worried about the slow page load time. Don't worry though! Because this hosting provider offers a built-in CDN that helps to improve the website speed while covering the different users from different parts of the world. You can avail of this add-on at any time you want.
3. Auto-heal feature
All Cloudways managed servers come with an auto-healing feature which helps reduce site crashes in user browsers. With this solution, you don't have to worry about the Magento store crashing because of most of the server related issues resolved via this feature.
4. Free "Let's Encrypt" SSL certificate
Secure your Magento store with a free Let's Encrypt SSL certificate and secure end-to-end communication on your online store. It helps in building the visitor's trust and improve the bounce rate of the landing page of the store.
5. Advanced security features
This hosting module offers two-factor authentication to secure your account from unwanted access. An IP Whitelisting feature – the secure way to access your server via SSH and SFTP. It allows you to create lists of trusted IP addresses, IP ranges so that you can limit and control access only to trusted users. Along with a dedicated firewall and many other security features to add extra layers of security.
6. Cloudways ThunderStack
The engineering team has built its own stack which is a unique combination of server and cache technologies that ensure the continued high performance of the Magento store. Cloudways ThunderStack is powered by Nginx and Apache that are backed by the latest PHP version, Memcached, Varnish and Redis that brings the lethal combination and lightning-fast Magento hosting.
7. One-click app deployment
One-click app deployment
Users can quickly deploy 10+ applications of their choice on this hosting platform's managed servers in a few clicks. Quite a helpful and easy-to-use feature, isn't it?
Final words
That should be it! Here is the definitive guide of Cloudways – one of the best choices for Magento hosting providers. You should optimize your Magento store, using this module. As a result, when your server is ready, it is time to add a quality theme to your eCommerce store and make it ready for operations.
Looking for a custom design or redesign of your online store? Whatever custom solutions are required for your Magento eCommerce project to create bigger revenue – we are here to meet that challenge. At Magesolution, we provide end-to-end services including consulting, custom design & development, as well as support and maintenance services for your online site. With 14+ experience in Magento custom development services, we start every Magento store with a strategy tailored to your business. Contact us for a free consultation.
1151 Total Views
3 Views Today