Product photography has become a major aspect of selling commodities online. Images are crucial to supporting the company's brands and converting sales. Not only can you find almost everything you need with a simple search, but products' photos is also time-efficient and often economical. The power of an image is hard to ignore, and if you're not including exceptional images of your products, then you could be losing out on many lucrative sales.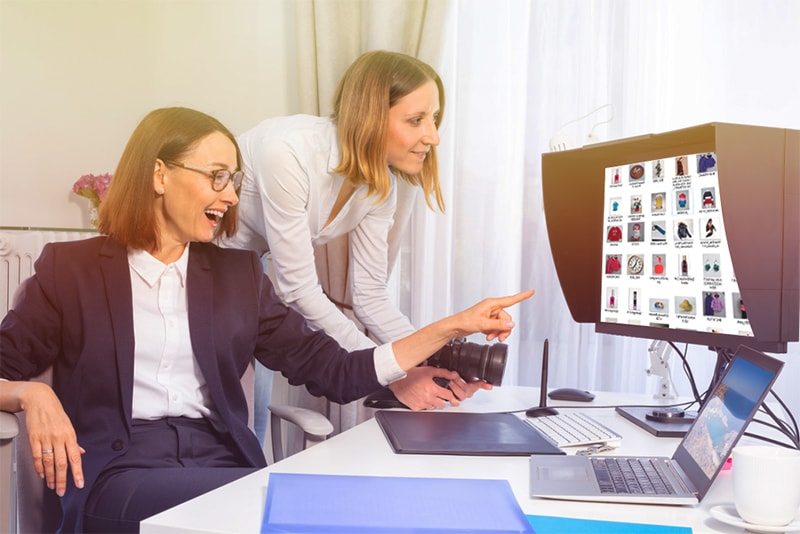 Product photography for your Magento store
Quality product images are a driving force of engagement, conversion, retention and overall customer lifetime value. Chances are customers who won't make a purchase of a product that does not have any visual content. Most online customers look at product photography first and read the description later to confirm. So now, let's take a look at some key benefits and how to plan your product photography in your Magento store.
What is "Product photography"?
Product photography definition
Product photography is a form of commercial photography that has the goal of presenting a product in the best possible photographic representation. Great product photography takes into careful consideration the tools of proper lighting, background materials, sharp camera focus with proper depth of field, advantageous camera angles and careful editing. Great product photography will help customers and merchants on rival products.
Some key benefits of product photography
1. Grabs consumers' attention
Images grab customer's attention, forming the first impression of your business. So you have to make sure that they are unique and resonating. For example, you're selling backpack kits. You cannot take your potential customers to a camping site and show them how good and comfortable your backpacking kit is. You can convey this feeling through your pictures majorly. All in all, images will draw attention within a jiffy and will help you increase sales.
2. Highlight your brand
Highlight your brand using imagery
A picture is not a short-term plan but a long-term solution to get your company recognized as a market leader. Also, your branding speaks to your audience and successful brands understand the importance of crafting relationships with customers. When you put up your product images consistently for months it can convey the key message to the customers. It helps your customers believe that your brand really cares about their preferences.
3. Set direct expectations
Most of the products are returned because the item does not look similar to the pictures. Thus, it is very necessary to capture a good quality image that looks right as the product. According to a recent survey, 22% of products sold online are returned because 'items look different than the photos". That's why product photography serves as ambassadors, everywhere across from your store and online and offline marketing channels.
4. Promotes silent communication
Promote silent communication
The image sends messages easier than words. Also, people in general skimming through online websites have limited time and patience to actually read all the text or product descriptions. This fact still stands strong and tall when it comes to brands who believe that action speaks louder than words. That's why, in this case: mention all the available product sizes, colors, features that are up for sale. Your sales will thank you.
5. Push your competitors away
You may not believe, but there're tons of similar products that related, or even exactly like yours. So, set your products apart through various ways of promotion is of utmost importance. And the thing that we want to mention here is by using product photography. You can show that your products are way better than your competitors by using high-quality images. Doing so will be beneficial to your e-commerce website when it comes to imagery.
How to plan your product photography in your Magento store
Plan your product imagery using Lookbook for Magento 2
Excellent product photography already adds value to the content of each product page on your eCommerce Magento website. However, there are other facets needed to achieve the best results in the long run. So now, let us get down to the practical aspect of getting the job done.
#1. Lined-up products and background together
Product and background line up
With product photography background being sorted, you may want to put your stuff compatible with the color. So, the next thing to pay attention to is how the product is lined up against the background. The objective is to capture the product from different angles to give potential customers a complete overview of what the product looks like. The standard is that the image should cover enough space in the background, making them clear to shoppers.
#2. Choose a certain number of images
You may want to show off, but you shouldn't overload your customers with your products. There's a limit to showcase your best-sellers, so, make use of that. If you're selling a lot of products in your store, then you may well not want to clutter your site with lots of photos, but it is actually important to keep the amount constant for every product. As a general rule, think about showing three images for every single product.
#3. Evaluate products before shooting
Evaluate before shootings
This step is necessary – perhaps even before lining the product against the background. While it is true that you can remove any blemish on the product, checking for any issue before the shooting sequence can save you a lot of time. This principle also applies to the background or any other items alongside the product. Any defect on them may have an effect on the quality of the final Magento product image to be uploaded on your website.
#4. Make your images interesting
Here comes the fun part. The more appealing your products look, the more likely you should get a sale. There are various techniques that you can do to make your products look as appealing as possible. Here are some tips to consider:
Get the lighting right so that the product is evenly lit
Experiment with the picture settings
Think about what background you want
Make sure your camera is stable
Apply different diffusion methods
Get the best angle for your product
Spend time editing the photos
#5. Allow your customer to explore
360-degree product photography
Creatively add something that imitates what people would do when visiting a shop, which, put simply, is the ability to explore. 360-degree product photography entails a series of real photographs taken at fixed intervals around the object. The images are stitched with each other using computer software to create a single interactive image. When loaded to a website, the image can rotate, while the visitor can freeze or turn the image to any angle.
#6. Re-purpose your product photography
Whenever product images are shot properly and are of high quality, you can re-use these images across a spectrum of different channels. It is still true that an image says a thousand words. As you can see, when it comes to creating the perfect product photo, there is a lot to consider.
Final words
This should conclude some of the key benefits and how to plan your product photography on your Magento website. In order to increase sales, you can utilize one of the most important aspects – visual representation. The result will definitely satisfy your need. We – MageSolution offers tons of Magento 2 themes and extensions that can be beneficial for your store. Check us now: MageSolution and ArrowHiTech portfolio.
265 Total Views
1 Views Today