The SMTP protocol is very important. Because it makes a big difference in the emails you send to your customers and in your delivery capacity. It may sound super technical, but in this article, we'll give you all the details about SMTP. So you can understand how it works and why it can impact your email marketing campaigns.
What is SMTP?
SMTP stands for "Simple Mail Transfer Protocol." This is a communication protocol used between email servers to send and receive emails.
SMTP is responsible for processing and forwarding emails from a sender to a recipient. To clarify, it acts as an intermediary between both. For personal use and traditional mailings, free email applications such as Gmail, Yahoo, Outlook, can offer basic functionalities to achieve simple tasks. But, if you manage an ecommerce and need to perform professional actions, you can use the services of an SMTP server to directly connect your systems and send transactional emails without the need to make complex integrations.
It is currently the most used sending protocol and used exclusively for the delivery of large volumes of messages.
The main advantages of the SMTP connection
Easy to connect
The SMTP connection has among its main advantages its ease of installation, since to start using Doppler Relay for your Transactional Emails you only have to change the SMTP credentials and in minutes you can have integrated your system with ours.
Connects to any system
Another advantage of the SMTP connection is its flexibility with existing applications. It has no restrictions. So it doesn't matter what system you have just have to include the SMTP information of your Doppler Relay account. And it will be working in just minutes.
Doesn't  involve any development from your side
If you don't have a team or a person available for to create the triggers to use our API, SMTP server is a great solution. 
Common steps such as modifying existing messages by adding a custom header to set the campaign for different message streams, or enabling the tracking of the opening or clicking tend to be significantly less complex than starting to use the API .
Overview how to configure Mail. com SMTP in Magento 2
Step 1: Create a new Mail. com account.
Step 2: Download and install Magento 2 SMTP extension.
Step 3: Configure the SMTP extension for Magento 2.
Step 1: Create a new Mail. com account.
Go to their official website Mail.com get the the register form, own a free account from today. There's a lot of unique features only can be found out in their service.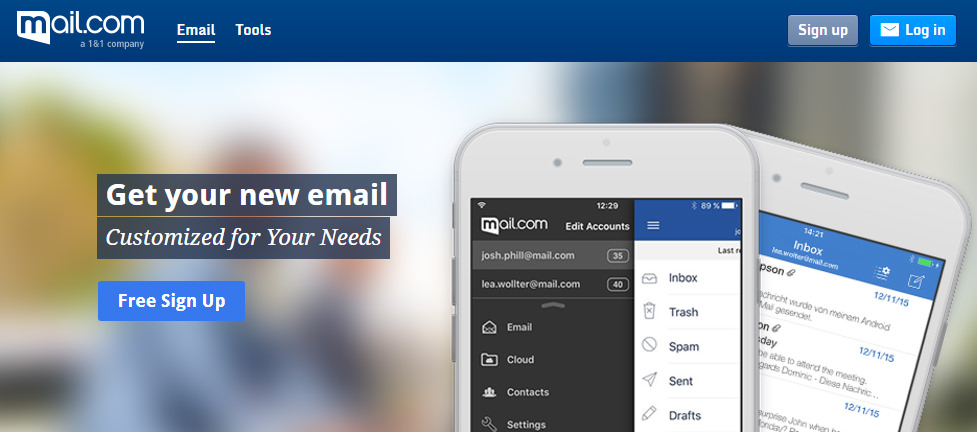 Mail. com Default SMTP Settings: When you get to the screen that asks for your Mail. com SMTP information, use the following settings.

Mail. com SMTP server address: smtp.mail. com
Mail. com SMTP username: Your full Mail. com email address (example@mail.com)
Mail. com SMTP password: Your Mail. com password
Mail. com SMTP: port: 587 (alternatives: 465 and 25)
Mail. com SMTP TLS/SSL required: yes (no can be used as an alternative)
Step 2. Download and install Magento 2 SMTP extension.
This guide will use Mageplaza SMTP extension to configure this setup. It's a free extension so there's no risk to try out this new advanced module. You can download it in Github and the installation guide can be found at this Documentation. 

Step 3. Configure SMTP extension for Magento 2.
Back to Magento Admin, make your way from Mageplaza > SMTP > Configuration. Expand General Configuration, choose Yes to turn Mageplaza SMTP on
Expand SMTP Configuration Option, complete these following steps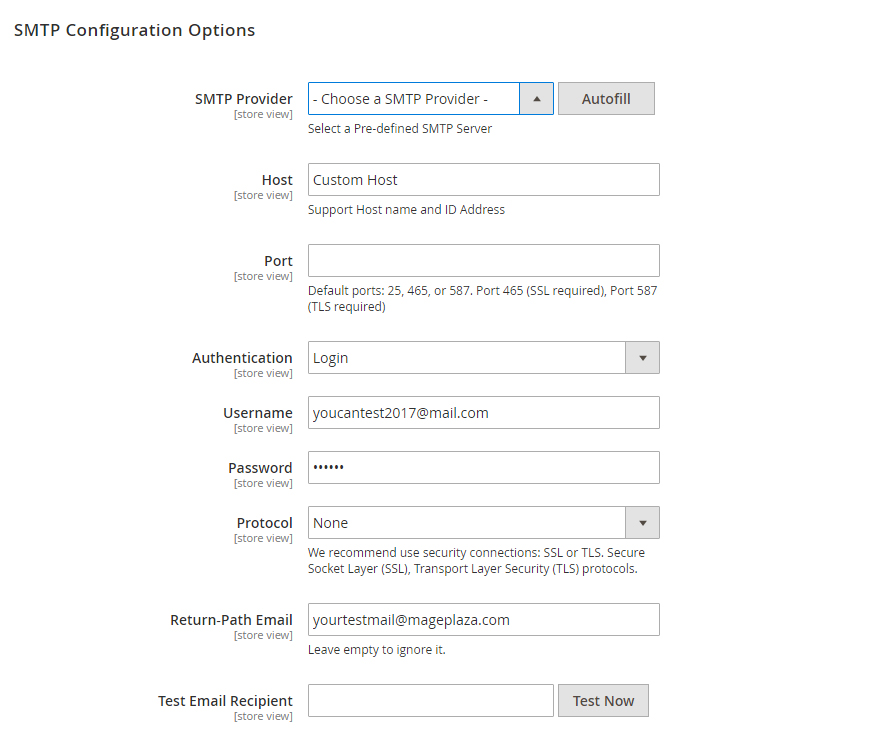 In the SMTP Provider field, choose Mail. com.
Click Auto Fill button to fill Host, Port, Authentication and Protocol will be automatically filled up to match Mail. com provider you had chosen.
In the Username and Password field, fill the Mail. com account's information you just have got from Step 1.
In Test Email Recipient, enter the email you want to sent to. A successful report will show up if thing worked properly.
And now you have done with the set up SMTP in Magento 2 with the Mail. com provider!
Level up your website with ArrowHiTech – official partner of Magento
Our own Magento development support services is plus the option for monthly support packages. It is to make sure your online business always remains in top form. And of course, there are countless other developer websites that can be easily found and perused as well.
Our Magento services:
Magento Consulting And Ecommerce Strategy
Magento Progressive Web Application Development
Magento Mobile App Development
Magento Customization Services
Hire Certified Magento Developers
ArrowHiTech Development Agency
With over 12 years of operation, ArrowHiTech is official Magento's partner. We has increasingly widened our skills and resources to meet all the requirements of customers all over the world on Web design and development with flexible and reasonable price!
Headquarter: Vietnam
Website: https://www.arrowhitech.com/
Contact: support@arrowhitech.com
651 Total Views
1 Views Today